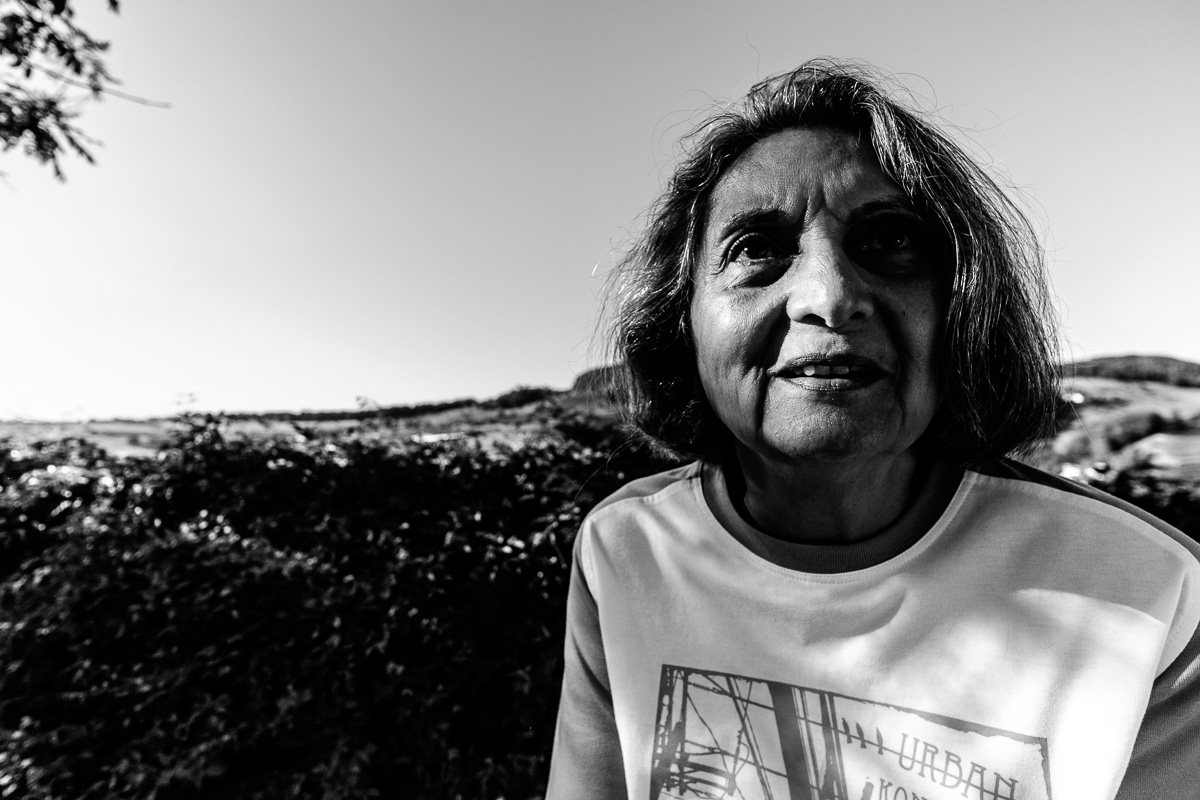 On Air 1985, Sheela replies, "what can I say? tough titties," when asked on 60 Minutes show how she felt about people who "don't want the orange people in our town."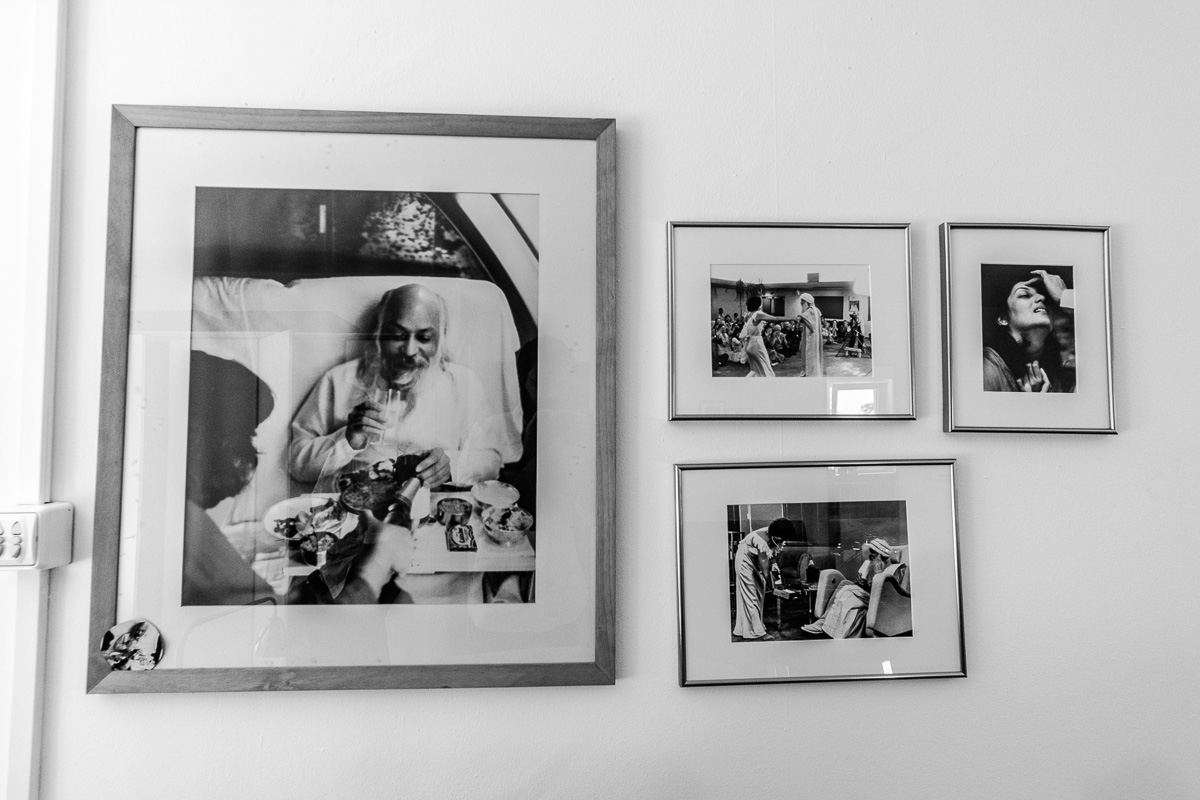 Like everyone else who has watched Wild Wild Country, I was intrigued by this fearless character of Ma Anand Sheela who is an Indian-born American-Swiss former spokeswoman and personal secretary to OSHO, and one of the central figures in the Emmy-winning Netflix documentary-series Wild Wild Country. Recently, Priyanka Chopra revealed that she is developing a film adaptation of this documentary about the Rajneesh cult, which built a commune in rural Oregon in the 1980s. Priyanka will star and produce a Hollywood biopic on her partnering with director Barry Levinson.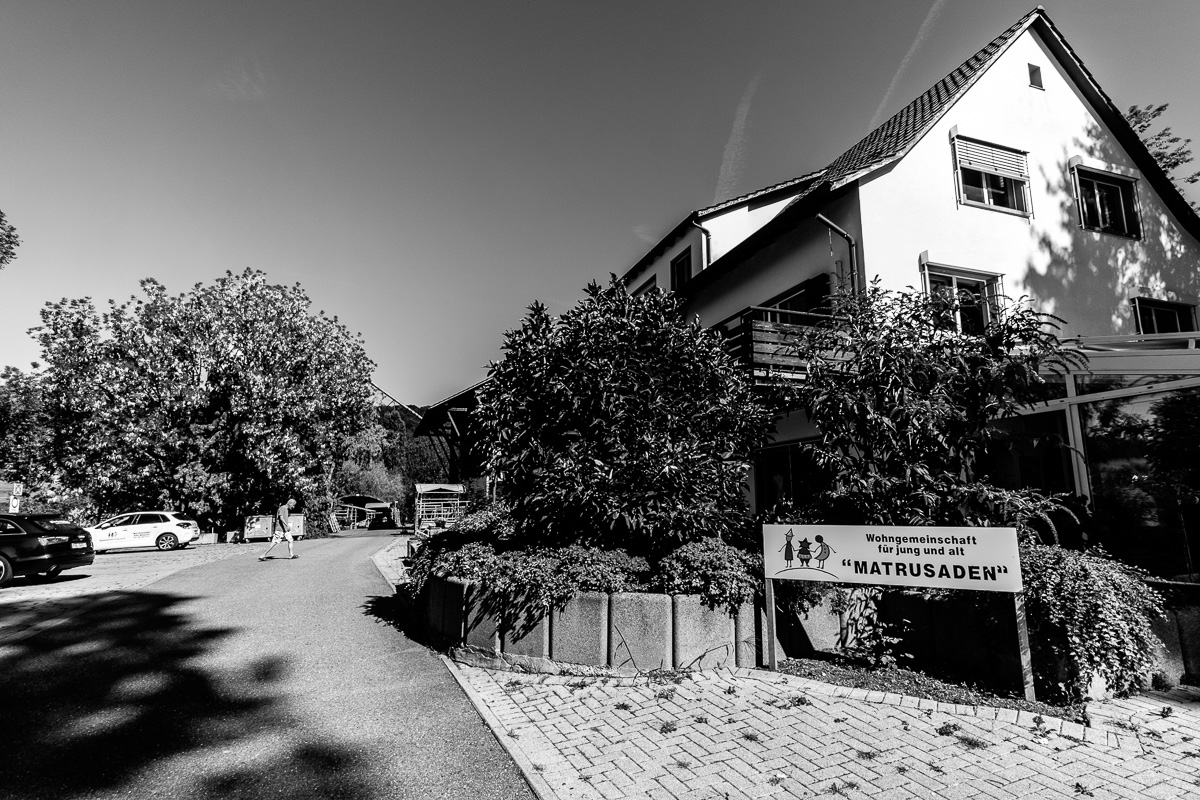 One afternoon while touring Europe, I just emailed her my wish to see her and she replied: "Yes, Saurabh we can meet on 12th August 2018." So I travelled all the way to a remote village of Maisprach in Switzerland and spent a couple of days with Sheela and her family to interview and to photograph her other side beyond Wild Wild Country. She has been running care homes for almost 30 years now and uses creative methods to heal her patients with mental disorders. Moreover, my interview has stories from her childhood to her time in the US Prison.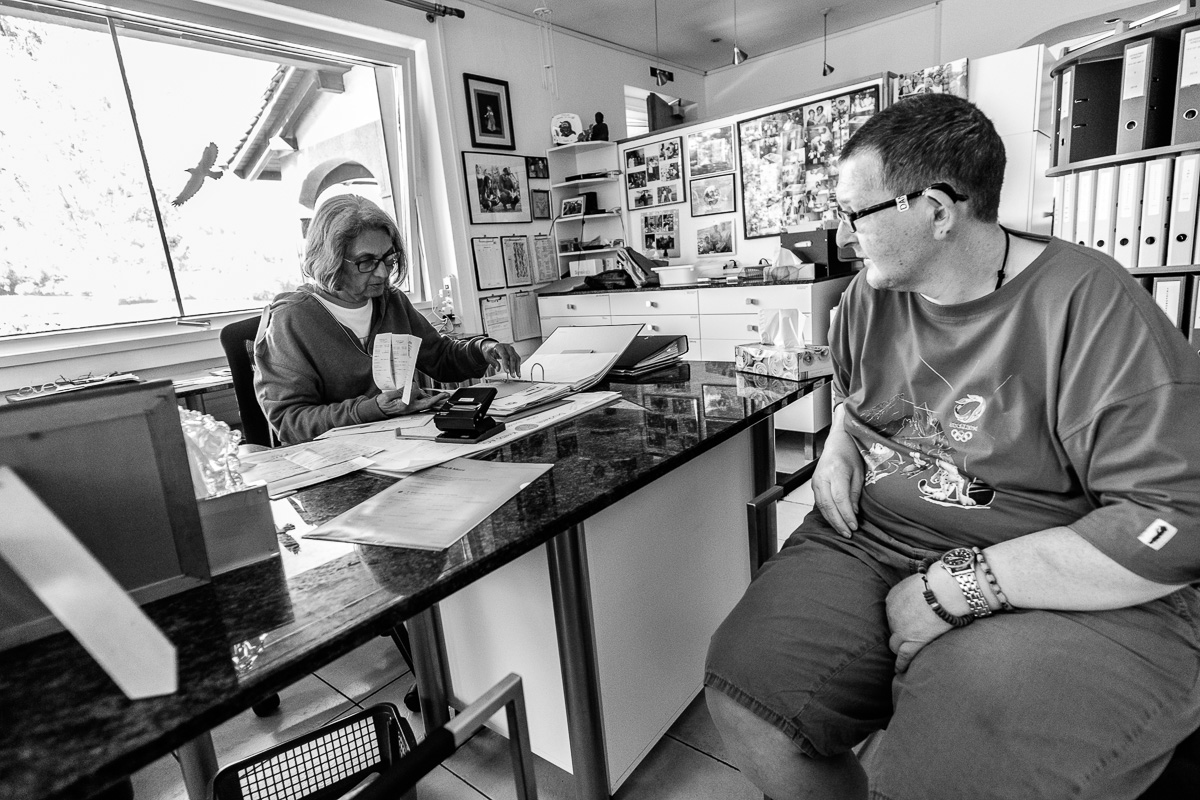 Here, I am sharing our transcribed conversation with the photos from my documentary for all the curious minds like me to know her life beyond Wild Wild Country.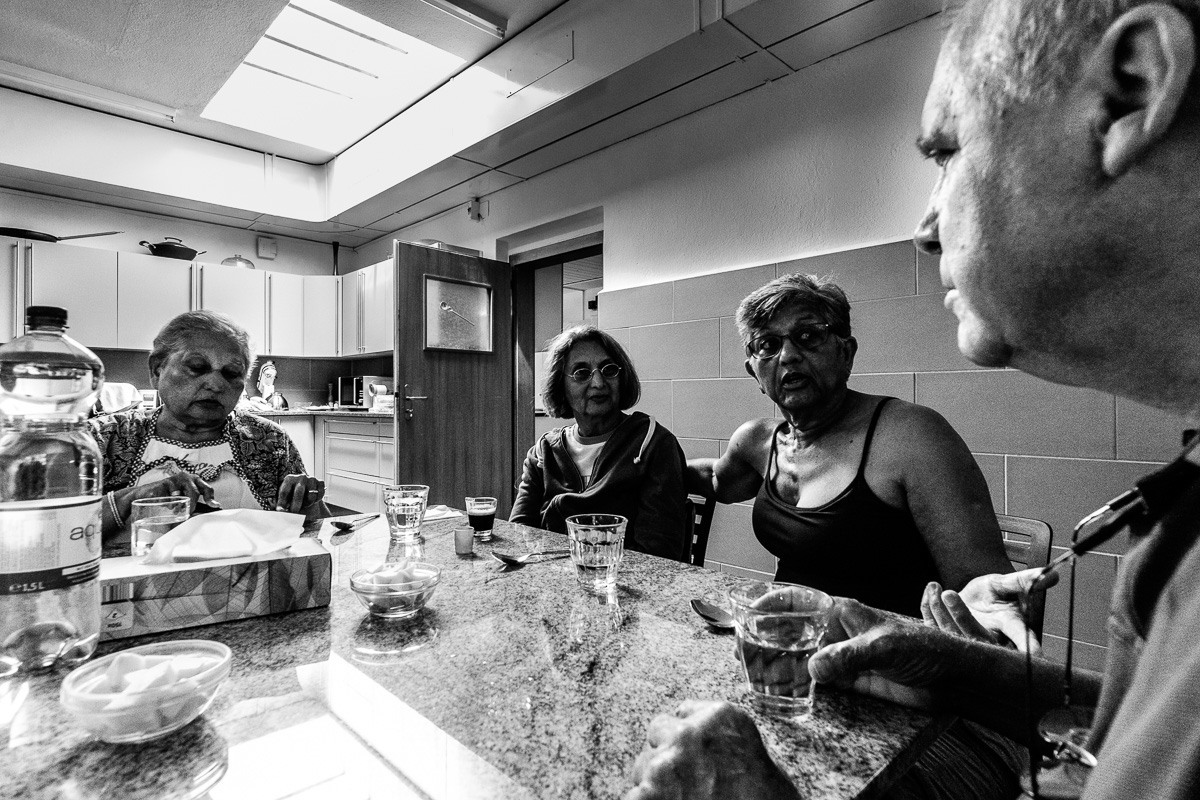 Ma Anand Sheela in conversation with Saurabh Narang
Saurabh: I got to know you via WWC and I loved your character. I happened to find out that you're in Switzerland and thought to visit you and see what you're up to these days.
Ma Anand Sheela: I am living a very non-complicated life with my team and patients here. I am very spontaneous and don't plan other than appointments. I live among my patients and my team. They come from morning till evening and then they go home to their families. My patients and my team are my family. I've once in a while my sisters from California visiting me for a few days or my brother visits me. Other than that I've no family. Meet Mariam, she's my right hand. So when I'm travelling, she and my other secretaries, they keep the roots going here.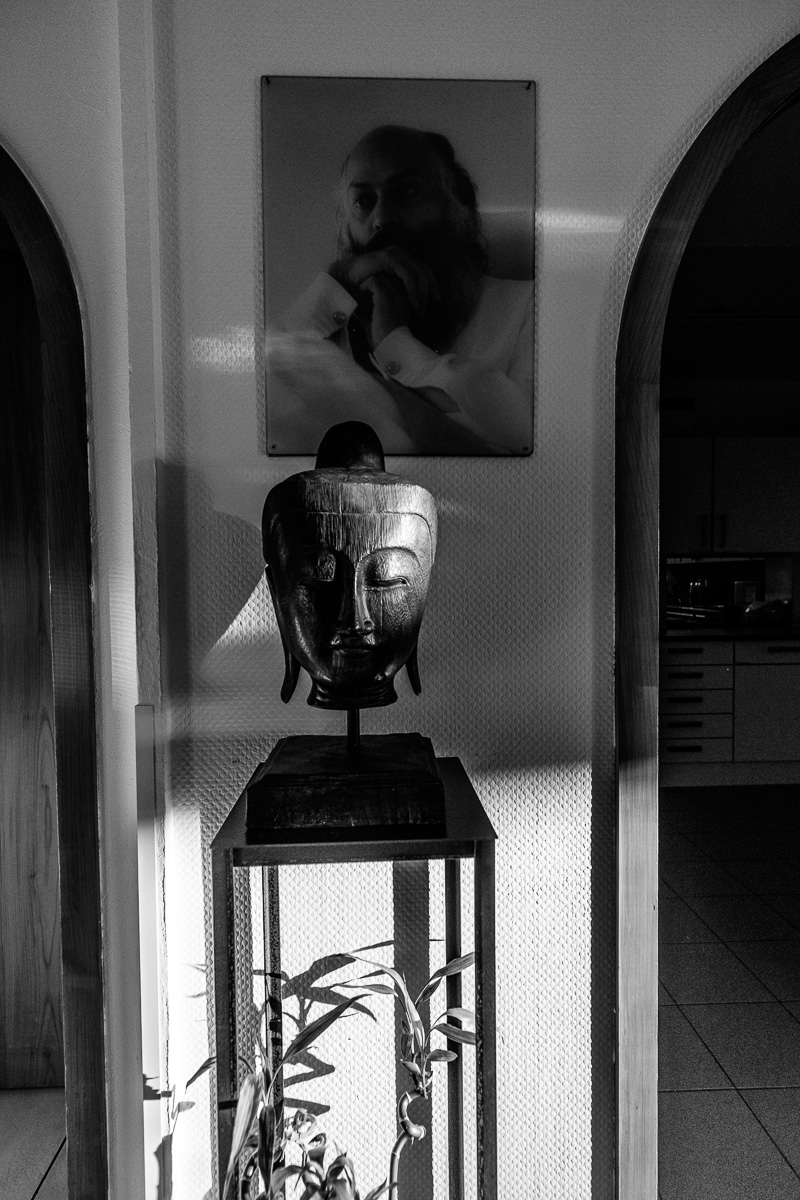 S: How did the idea of WWC documentary come alive?
MAS: This documentary people came to visit me because they have a lot of footage inherited. Most of the archives from Bhagwan's side is all destroyed by his new management. These non-journalist filmmakers got lucky and got 200-300 hrs of footage of the historic events. And they decide to do a move and they came to me and said that they want to do a movie and they have this raw footage. They asked me if I would be interested to participate. I said "yes" because my father has said "you can't make your experiences locked up. You must speak about your experiences because they are so big and can inspire coming generations." And he had said that in 1995 to me. He was always 50 years ahead of his time.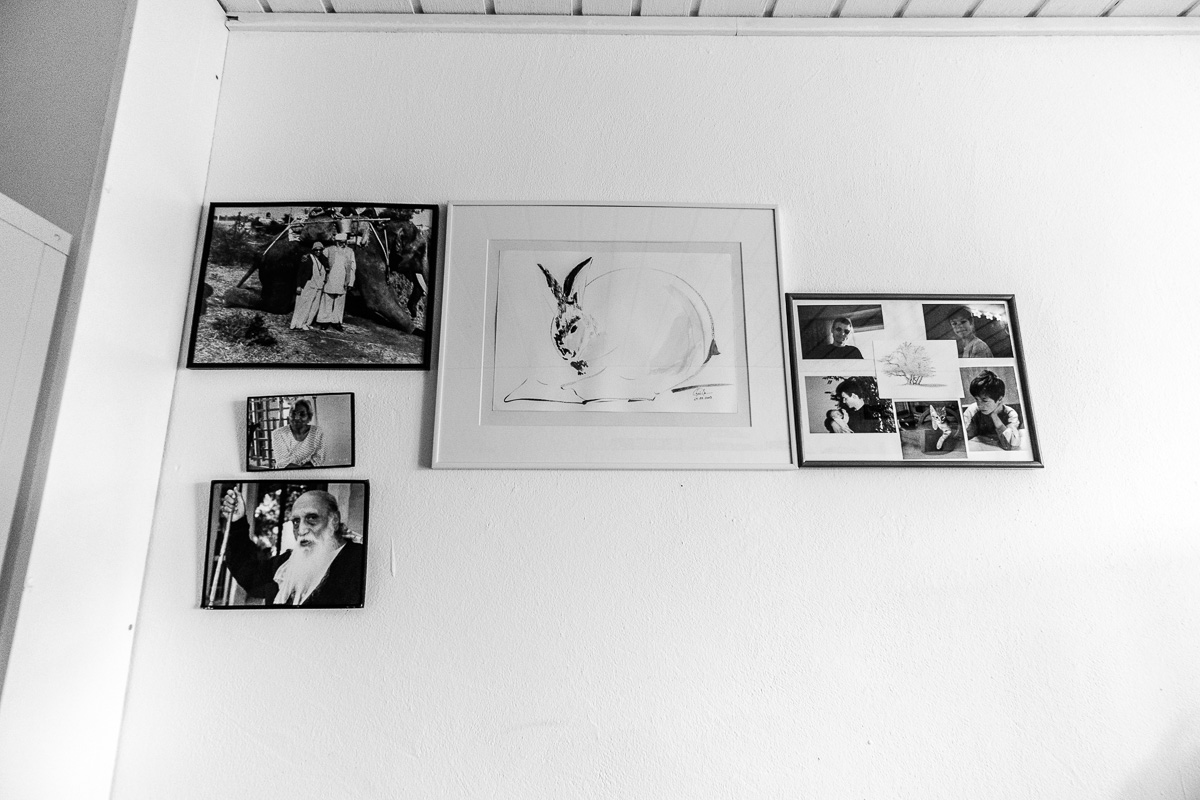 S: Can we go back in history and know about your upbringing and about your father?
MAS: Read my book! You would get a better idea..haha. My father was a man ahead of his time, my mother was courageous and also very much together with my father and they both were very bold. My father's background was with Gandhi. He was one of the trusted deputies with Gandhi's team and they used to work closely in Gujarat. And then they fought for independence. The value he gave to us children was about freedom, speech, fight for your rights, and education. We were four sisters and two brothers and we were never raised as daughters and raised as six children. And we had all the freedom we can have. No restriction on choosing a life partner and we could do whatever we wanted to. Then he was the one who introduced me to Bhagwan and then I fell in love with him. He was following Bhagwan and also many other people. He was actually following himself and was a vicious reader. He wanted us to have a higher education and to learn from the life and the world. He did his best. We were not from a wealthy family, but had enough to eat. He was always involved to make us better in every field, be it sports or studies.
S: What about your mother? As you mentioned, she was also very courageous and bold.
MAS: She was very open minded and also a social worker. In her days, she went to university. She was considered to be a very intelligent and a very beautiful woman. She had a sweet heart. She was always with my father and loved him. They were together till they departed. 
S: When did you go to the US? 
MAS: At the age of 16.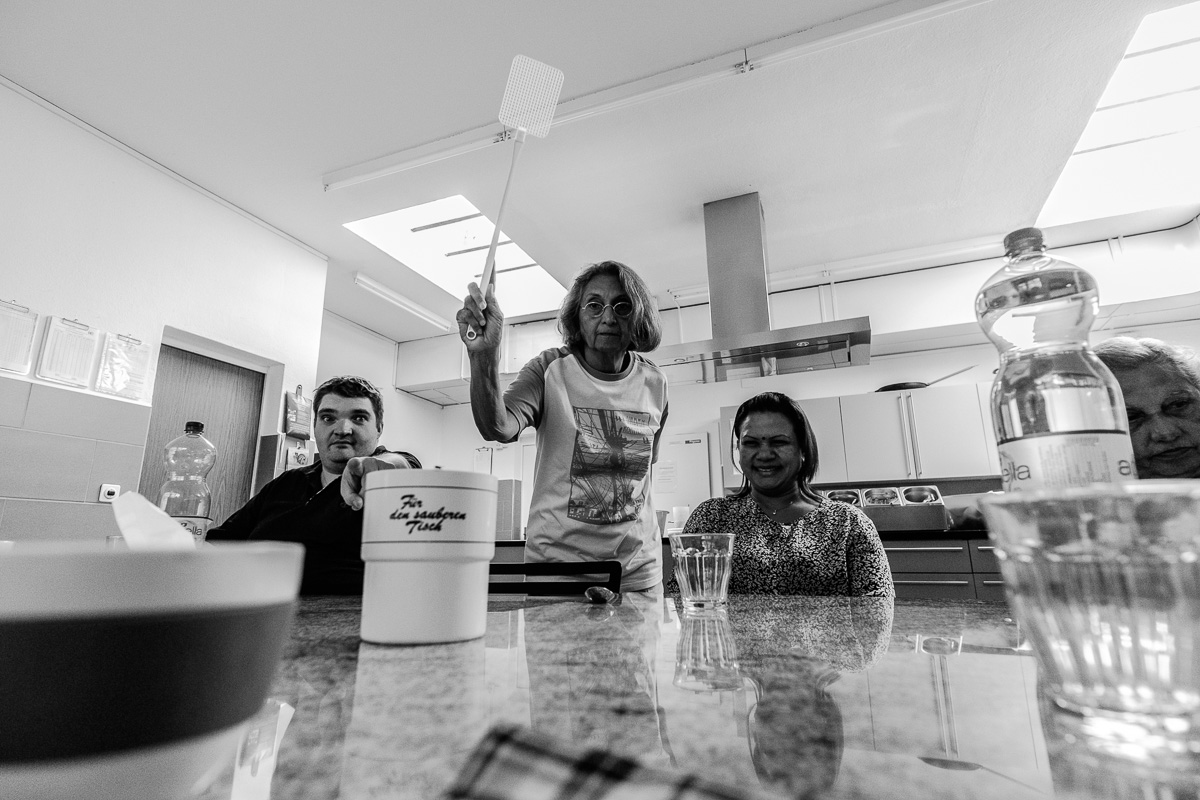 S: Do you believe in destiny and consider yourself to be lucky to be with Bhagwan?
MAS: I don't know if I believe in anything now. But I think nothing happens without the wish of existence. We can help out destiny by cooperating with it, but I don't think I can decide in this world, whatever happens, happens and one has to be ready for it, good, bad or ugly. Yes, it was a one in a million chance to be with Bhagwan.
S: Can you take us through your journey in the '80s with Osho?
MAS: Well, the '80s was a crazy time for all of us working for Rajneesh (Osho). We were at our peak as thousands from around the world joined the Rajneeshee movement. Many of us were educated, upper-middle-class white Americans who flocked to India to gain enlightenment by being in Bhagwan's presence. You can imagine, the magnitude of running a commune on 64,000 acres of rural land in Wasco County, Oregon. We had all the facilities, from a departmental store to a landing strip for planes. Eventually, we got engaged in a full-on war with the nearby townsfolk who despised us and were accused of what not from mass poisonings to rigged elections. It was a crazy time!

S: Was there any particular reason that Osho was considered a 'sex cult'?
MAS: Because we were the only people who enjoyed sex fully especially at a time when society was far more close-minded than it is now. Bhagwan always advocated an open attitude to sex.
S: Have you watched WWC and do you think they shared your part with honesty?
MAS: The agreement was that they won't destroy or manipulate. I've quickly watched my part and they have presented it well. No complains from my side. And when I did this documentary, I didn't know the result would be so massive. Now it's nominated for the Emmy award in five categories.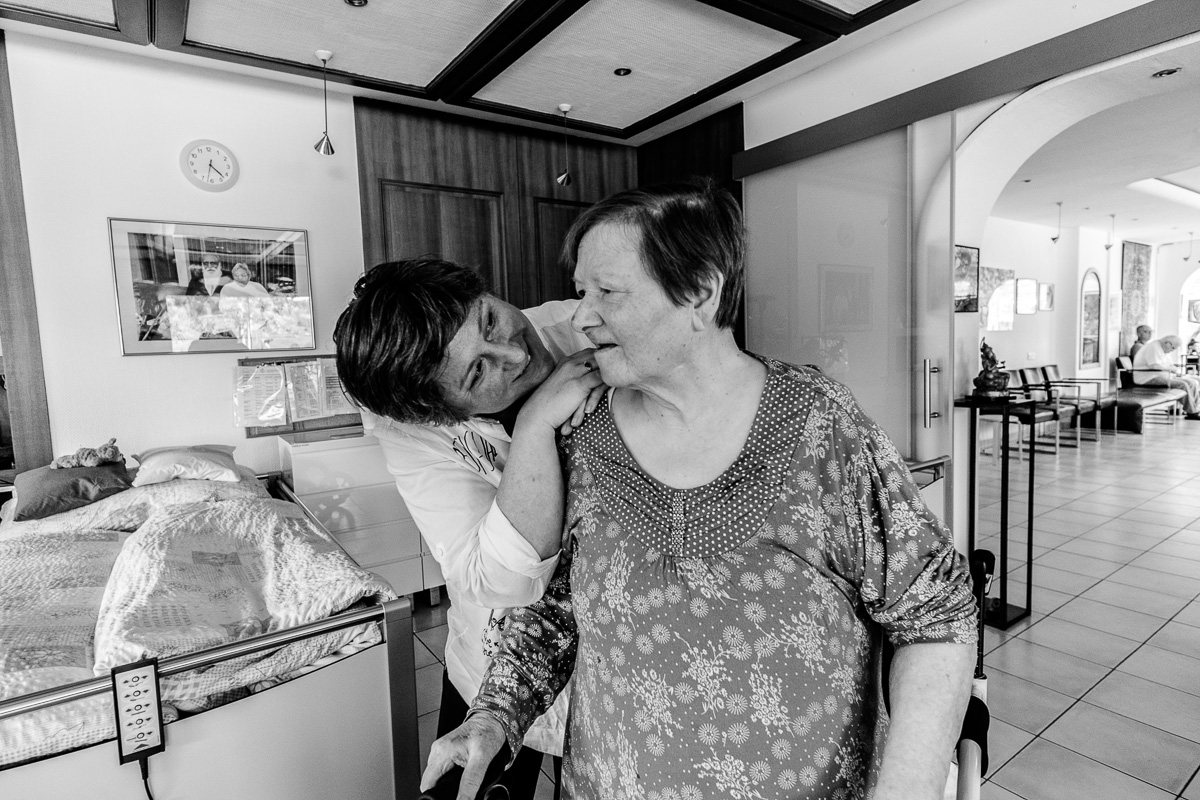 S: Tell me more - were you always a very bold personality?
MAS: I was just what I was. As a child I was a bit shy and was loved and a bit sheltered in my family. It was, when I went to study in America all by my own, that I developed my own mind and started speaking for myself because I was living alone. My first bold move (if I have to say) - I fell in love with an American young man and started living with him and then it was all normal to be bold or go in your own way. And then when I was with Bhagwan, it was like that's correct and that is the way it should be. I heard Bhagwan speeching some of his provocative speeches and it made a lot of logical sense. He never thought conventionally but very logical, flexible, and practical. He was well read, he had his own library of 150,000 books and had read all of them. He had a photographic mind.
S: Was your family cool about what you were doing?
MAS: Well, there were some family members who advised me not to do a lot of things, but my father was always supporting me and that's what mattered the most to me.
S: Tell me about the time in India - when Bhagwan started the ashram in Pune?
MAS: I think that was the time when Hindu fundamentalist groups like Shiv Sena and BJP were getting popularity. They had no tolerance and I can almost compare them with ISI and Muslim fundamentalists group. And they tried to disturb us from time to time. There was this one Shiv Sena member who tried to attack Bhagwan in the morning discourse by throwing a knife on him which of course didn't hit him as his aim was not good. It is this kind of madness.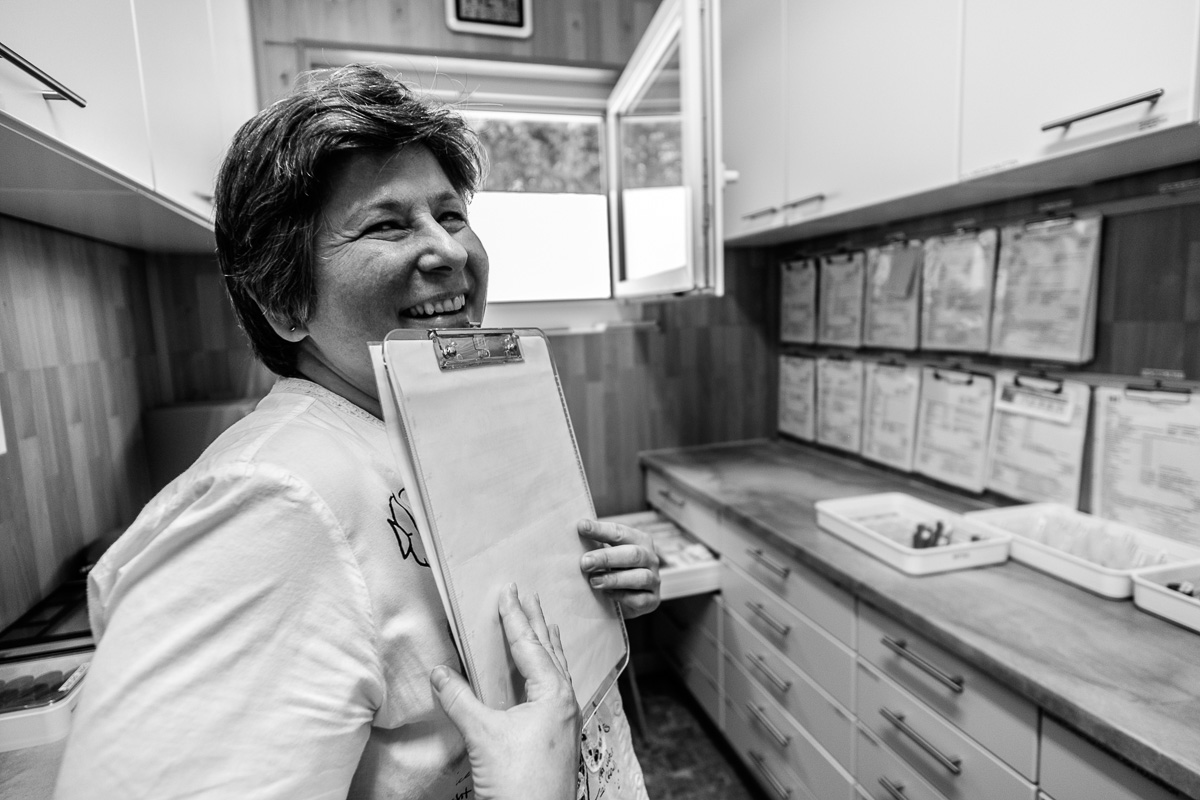 S: I am always inspired to meet powerful women like you around the world. How do you compare life of a woman in Europe and in India?
MAS: Deep down women all over the world are the same as they fall back to financial security. There's a possibility to go out and do your own big things, but still the average woman chooses the security of being with a man and having children and comfort. And that I kinda a feel bit of ashamed that what are we going to pass on, just hold people back. We got to encourage them to go out. This is one of the things we do at our institutes. I have two institutes here in Swiss, we have two here and then one in Mauritius which is completely a charitable project. Started with my savings and the things we don't use here and are still wonderful to use. And one more small institute in Vietnam. Three under Matrusaden and Mayem for Vietnam which means a beautiful home which is always a mother's home to me.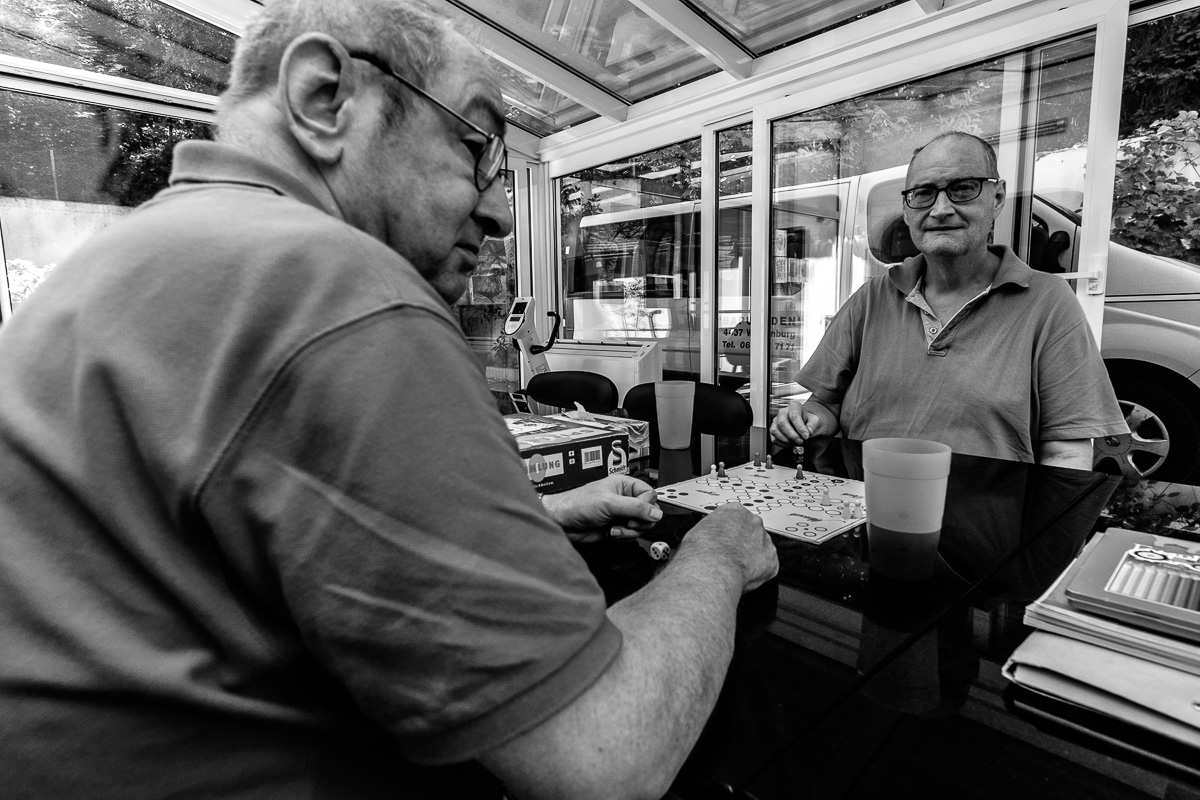 S: What was the idea behind starting these care homes after leaving Bhagwan?
MAS: After leaving him, my character was completely of an assassin by Bhagwan, his people, by politicians and by general public because for them it was easy to believe the negative than the positive. I spent 39 months in the prison. I came out of prison, I had the choice to become dependent on somebody or self pity. If I would have gone for a dependent life, I think self pity would have followed me and depression and become psychologically ill. But that was not acceptable by my ego...hahha let's be fair! Plus, I was not ready to waste my training and opportunities given by Bhagwan and my parents. And it's always our choice to become mentally ill or going. I was on a cross road and I missed my parents though I was a Swiss citizen, but the law didn't allow me to invite them because of my means. Then I found the little loop hole in the law. There was a law that you can take 3-5 handicapped people at your home and can take care of them. And I got the job! Then I took my first 5 patients in my house and got onto my feet. And expanded to this point today and the government never objected me. We have 35 seats today and the government funds us indirectly. And everything is transparent from day one and they acknowledge us as we follow the process.
S: What did you study btw - law?
MAS: No! I studied Fine Arts and I'm an artist at heart.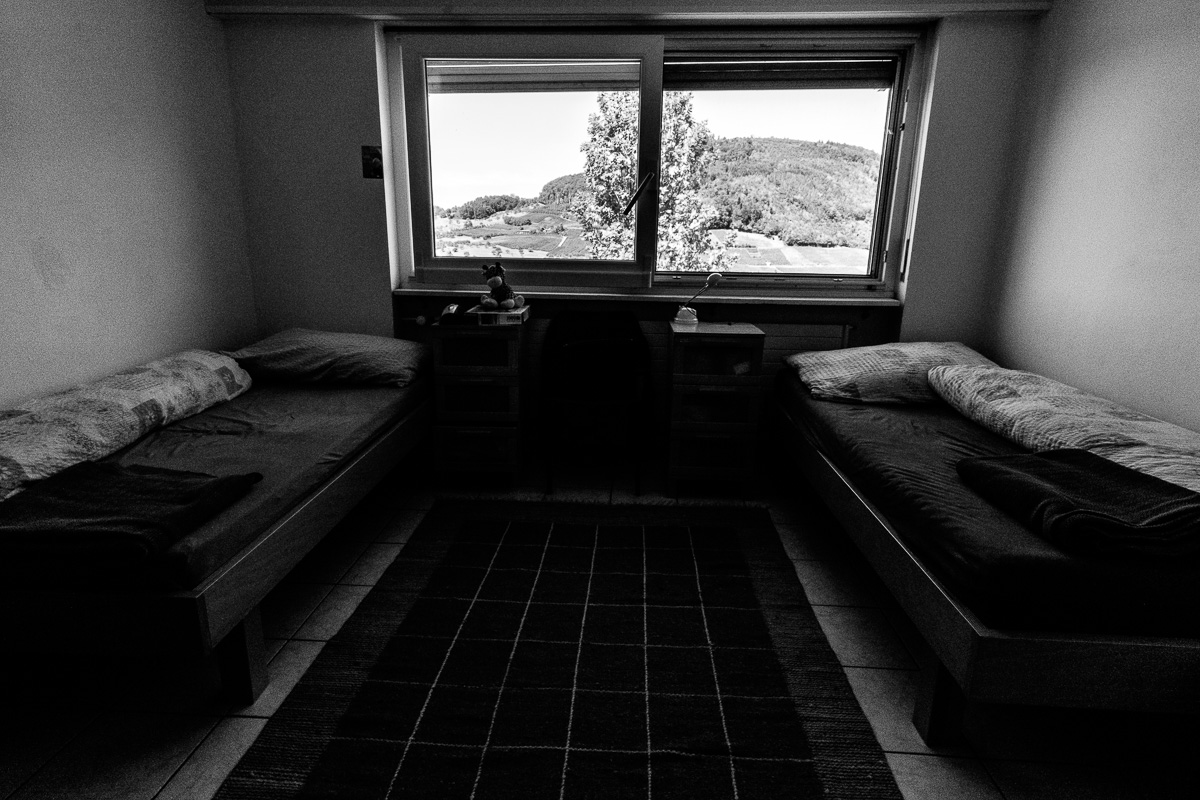 S: How was your time in jail, were you depressed?
MAS: No I didn't allow myself to be depressed. First 10 months I only slept because for so many years I worked so hard. You won't believe, but I slept in the cocoon position like a foetus. I wasn't allowed to do any working and was waiting for my sentence in the jail. That was like intuitive safety for me and that rest was very much needed to restore all the energy.
S: Were you meditating?
MAS: No, I am not into meditation or spirituality. It was just from inside that this position came and I was very comfortable in it.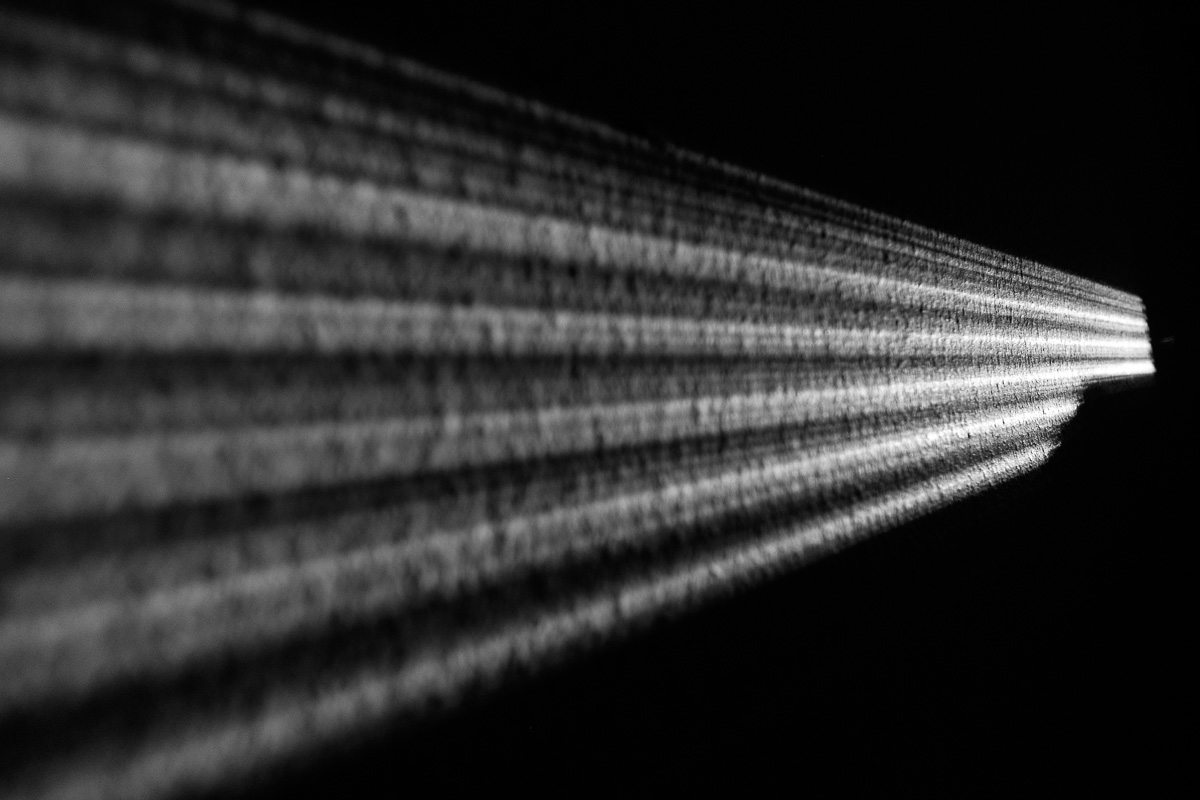 S: Did you cry in the jail?
MAS: Only for a few days after leaving Bhagwan, but my self decline told me to move on. I would walk to stay active and read all what was available. Law library in prison. I would write letters to my parents every day. Because I knew what was their condition as one of the children was not well. There was a heavy stone in their heart and I would write what's in my heart and things like that. I refused them to write back to me so that the US government can't use them against me. I told them not to go to the US until I'm in prison. Because they were my weakness and they understood me.
S: Were you their favourite?
MAS: I was everyone's favourite as I was the youngest and I'm still the favourite and they treat me like a little child!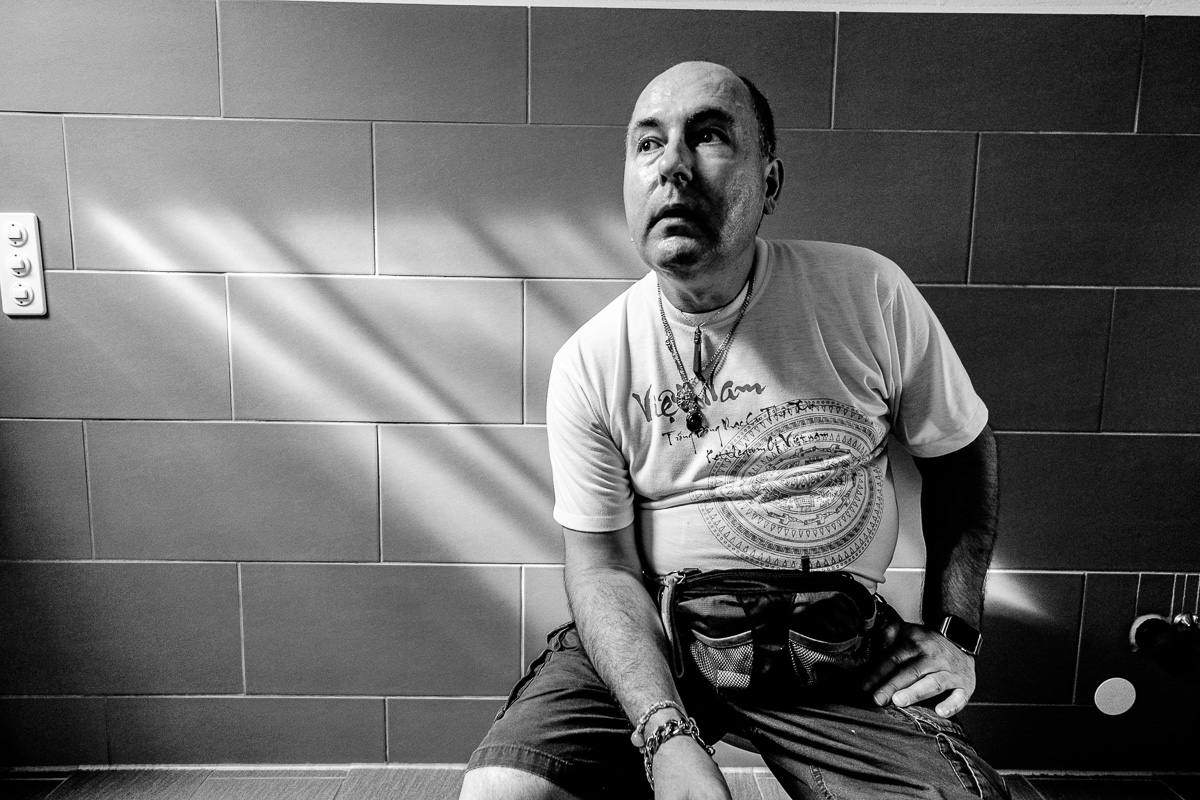 S: What kind of people come here?
MAS: Nowadays, we can only deal with young adults b/w 18-64, but when they come to our home before 64, then they can stay till their last day. Before I could take even the 90 yr old being a private player. I have more of schizophrenics split personality, borderline and also Alzheimer patients. I am only allowed to take people with a Swiss residency.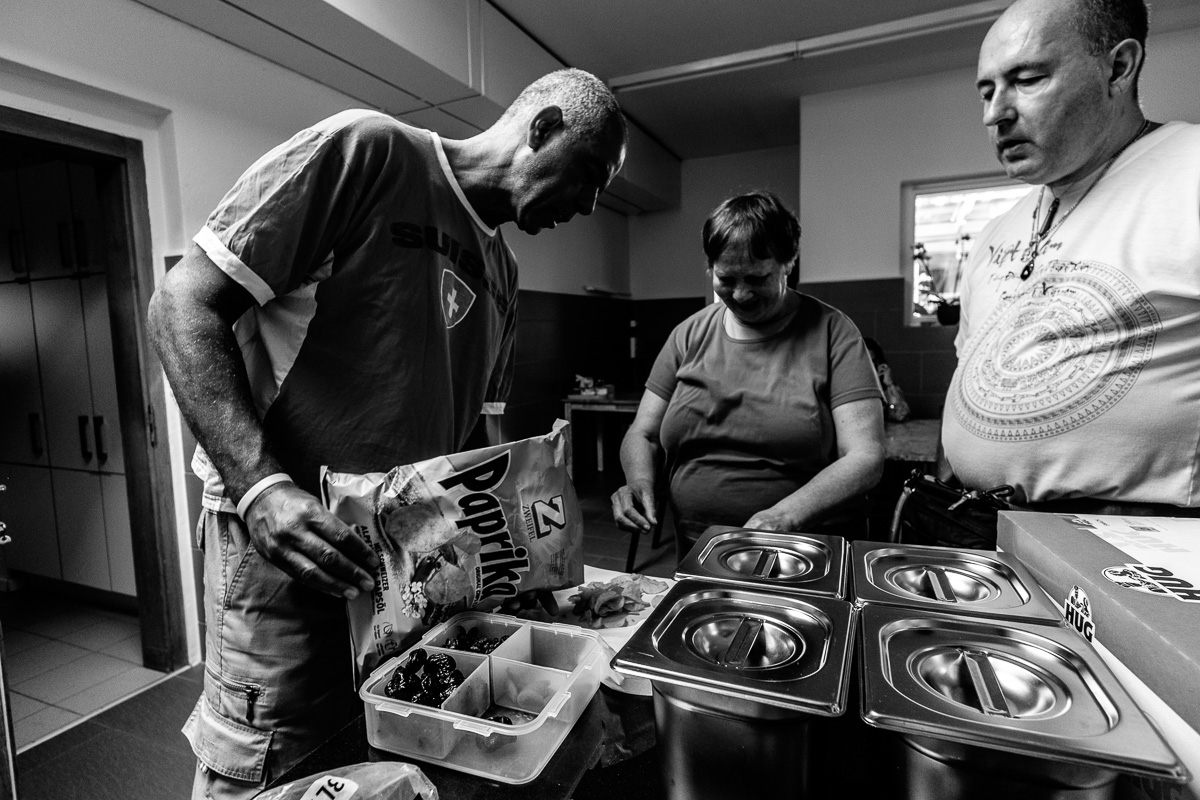 S: What happened to the team which that you worked with Bhagwan?
MAS: I have no contact with them now. I got arrested and then one by one everyone lost contact. When I came out of prison we were still 5-6 working together and then Oregon government came with new charges and since then I have no contact with them. Just recently a sanyasi contacted me. She wanted to meet for a long time, but was afraid. My house is open for all, you can come and have a coffee and if you come around lunch time, then you can have lunch here.
S: How do you compare your current lifestyle with that of with Bhagwan?
MAS: Before Bhagwan was my boss. His agenda was my agenda. Now I'm my own boss and I've my own agenda. Okay, what I learned from him, I use it on a daily basis. His concept was that different people should live together in a commune and see, we have 17 different nationalities living here. This is my creation and I enjoy every bit of it. I've studied fine arts and I'm creative with humans, I don't sit and paint anymore. I have a couple of paintings here that you can see when you go on the round.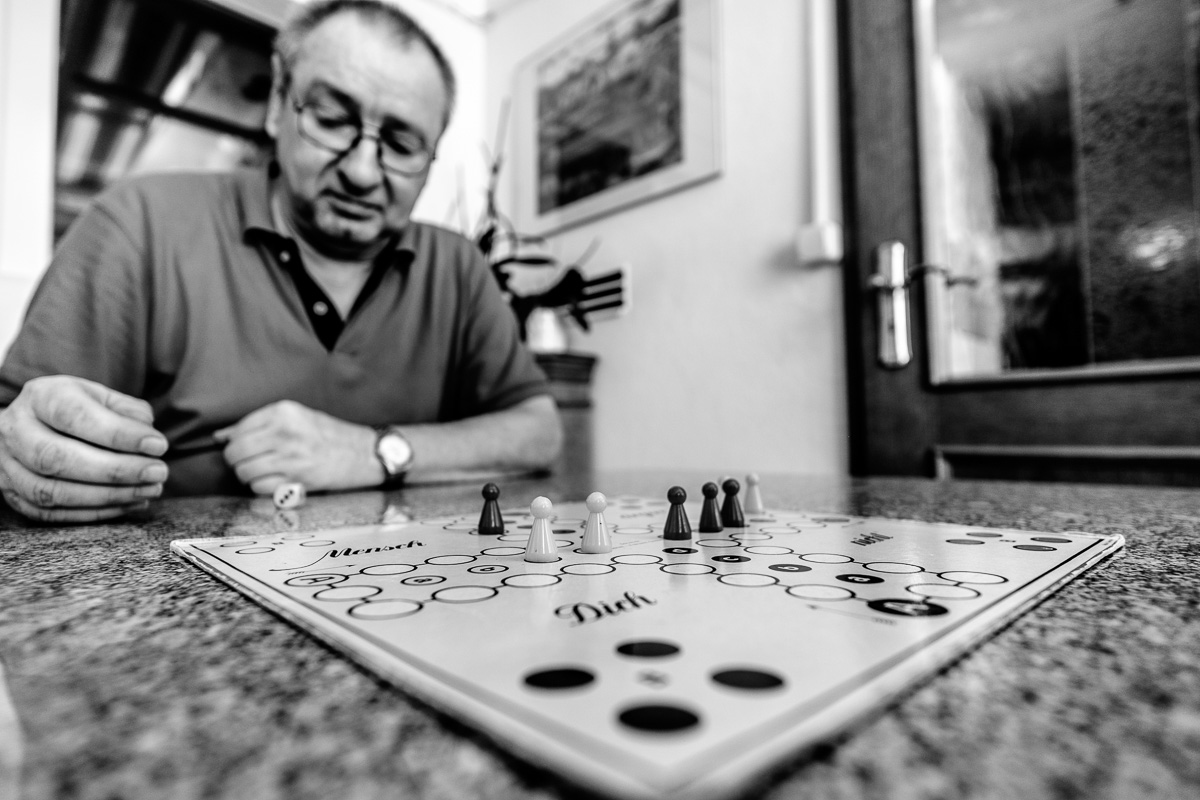 S: So how different is this care home?
MAS: One small world being there for them and they are there for me. Everyday I enjoy being with them than with any other normal people. I find them sensible and they understand feelings better and they don't have any intellectual garbage in their head, sorry I put it very blunt. They are more in touch with their feelings, they don't mean to be aggressive. We dance to keep them active and we go out for lunch twice a month. They are active because they are involved in art activities. I also take them travelling to different places. There was a time that I used to take a group of 36. Last week, we were a group of 11 in Mauritius and in October 25 we will go to Vietnam. We travel twice a year. And these were the people who can't sit for 2 min and now they sit in a 12 hr flight very comfortably and that's the magic travel does. They love going out and explore places. It gives them something to talk about and keeps them away from being alone. They get more social.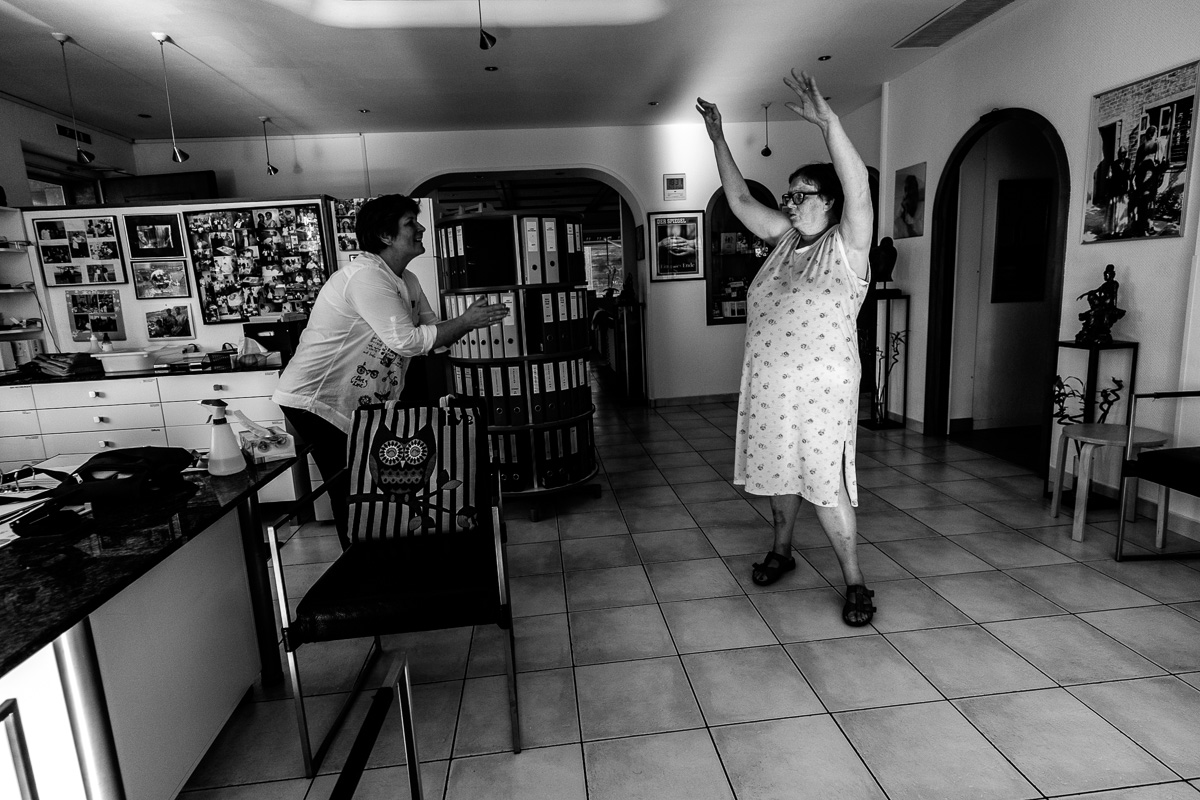 Lunch Break - Yes, I ate there and food was really yummy!
S: Do you have pets?
MAS: I only have a dog and she's in the last days of her life and suffering from a big tumour.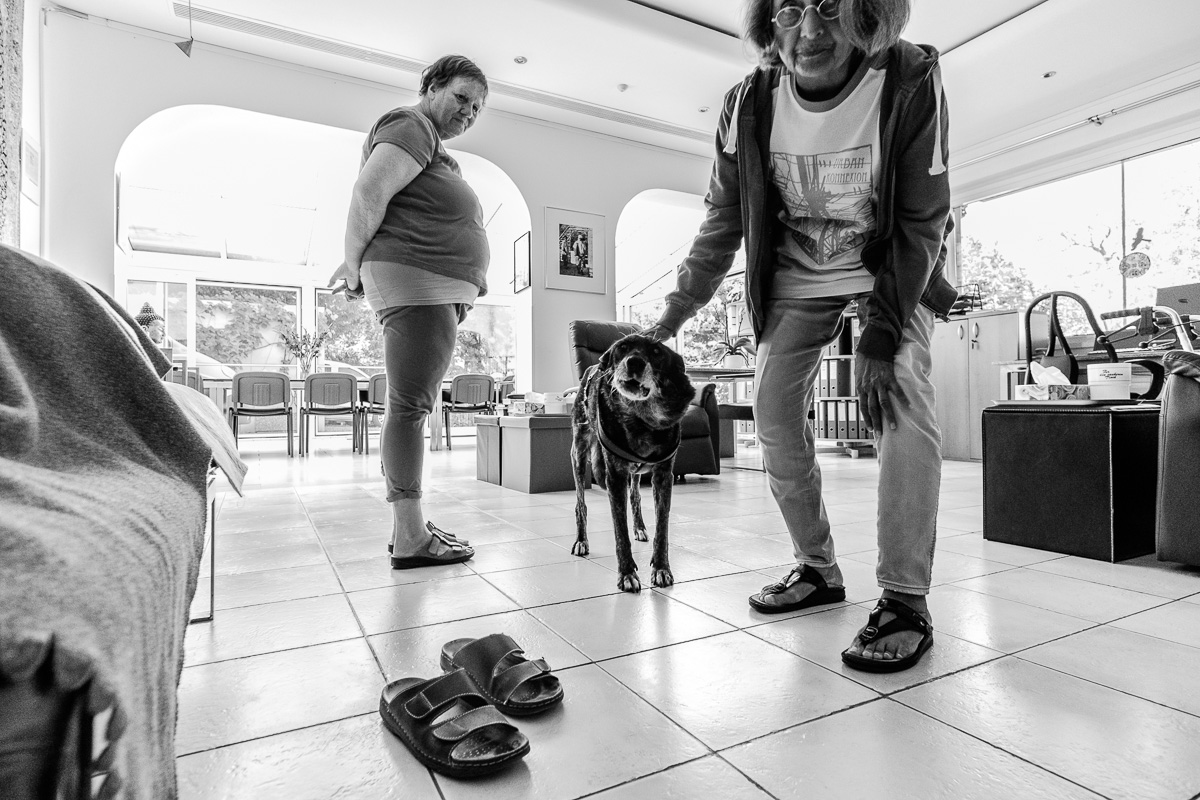 S: What you would have done if you would not have met Bhagwan?
MAS: I had this idea in 1999 and wanted to work with orphans and widows in India. I would have created a care home and give work to young widows so that they can support themselves and older people can get help from their work. I can give training to orphans and they can help. In our India widows suffer because of our patriarchal society. They blame women for everything and women have nothing to do with it, his time has come and he has gone, people put all kinds of shit on women. They require self confidence. It's just an idea, it can't only be widows alone, but also orphans.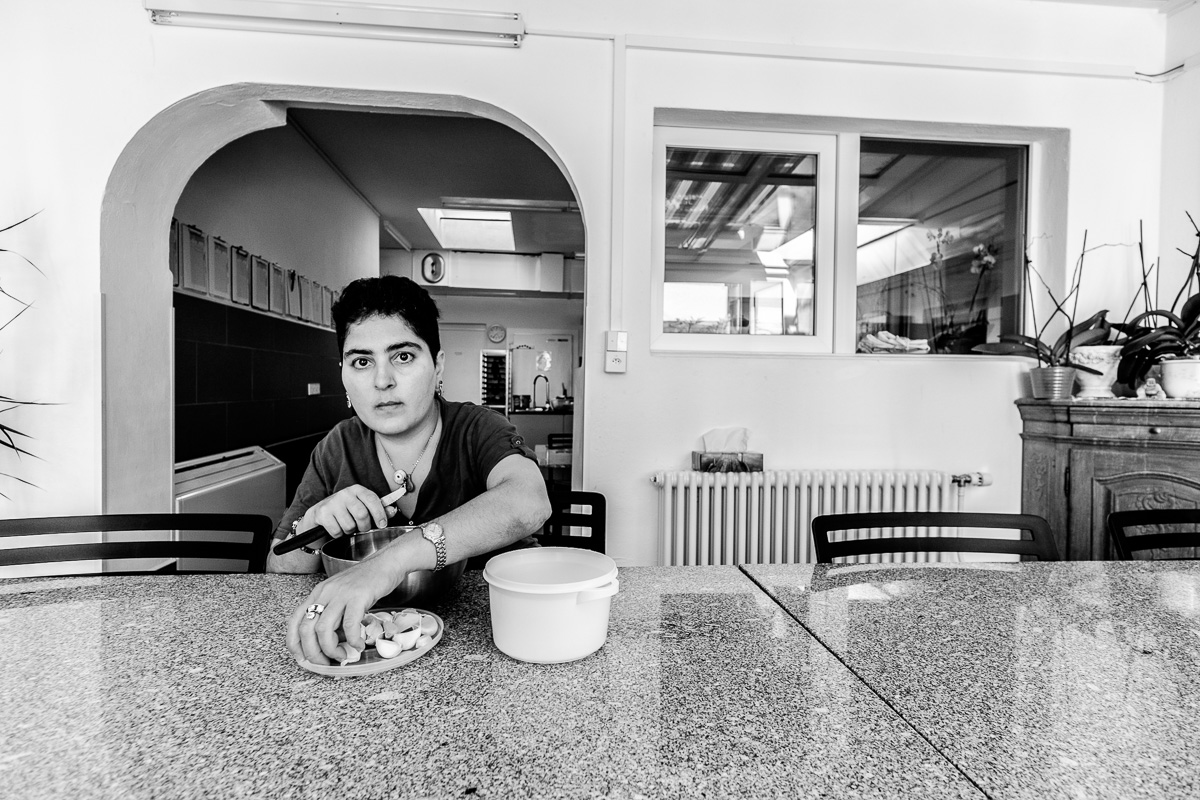 S: Any challenges while travelling?
MAS: Not now, they are a stable group now as most of them are with me for a long time now.
S: Any magical story of any of your patients or improvement you've seen?
MAS: Everyday, because when a disabled person feels at home and feels that there is someone for me, then that's magic because most of the world suffers from isolation. That is the reason for most of the mental illnesses today and if you're handicapped, you suffer double because nobody has time to take care of them and some do it if they are on their duty, then it loses the quality. And the other person feels it, so this is where I feel my concept comes handy. Of course, we have to hire workers and they have to follow proper discipline and you have to give them a proper training, but one can also find people who enjoy what they are doing. And that's the speciality of my house: We all enjoy what we are doing and you can see the happy atmosphere here: We sit every meal time together, we team it together and we talk about all the different things related to work and life. So communication is at a good level.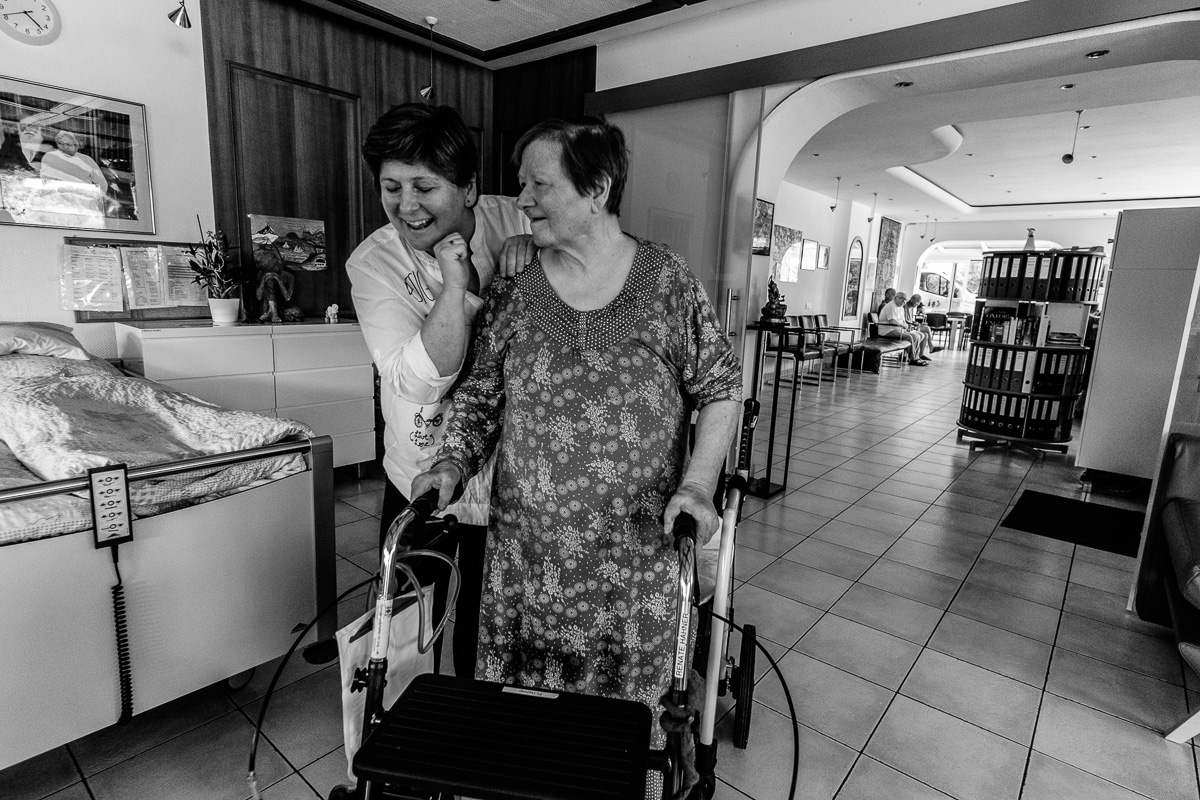 S: What advice would you give to people who are running a care home? The best way to take care of a disabled person.
MAS: Integrate them! Don't constantly remind them that they are sick or don't make them feel that they are burdened. Have fun with them. If you don't have means to travel with them, then at least take them out for a walk outside in a garden, make them see the life as usual. You see that none of our office rooms are walled in, only for one reason: So they are in direct contact with me/us. When I am working, they all like to sit there and I put the music on and they want to listen to music with me. They ask me questions. There are moments when I need to focus on some work and then I tell them to wait and they wait for me. And then I talk to them. And then somebody would come and ask them for a tea/coffee so they are motivated. I take care of them and they take care of me.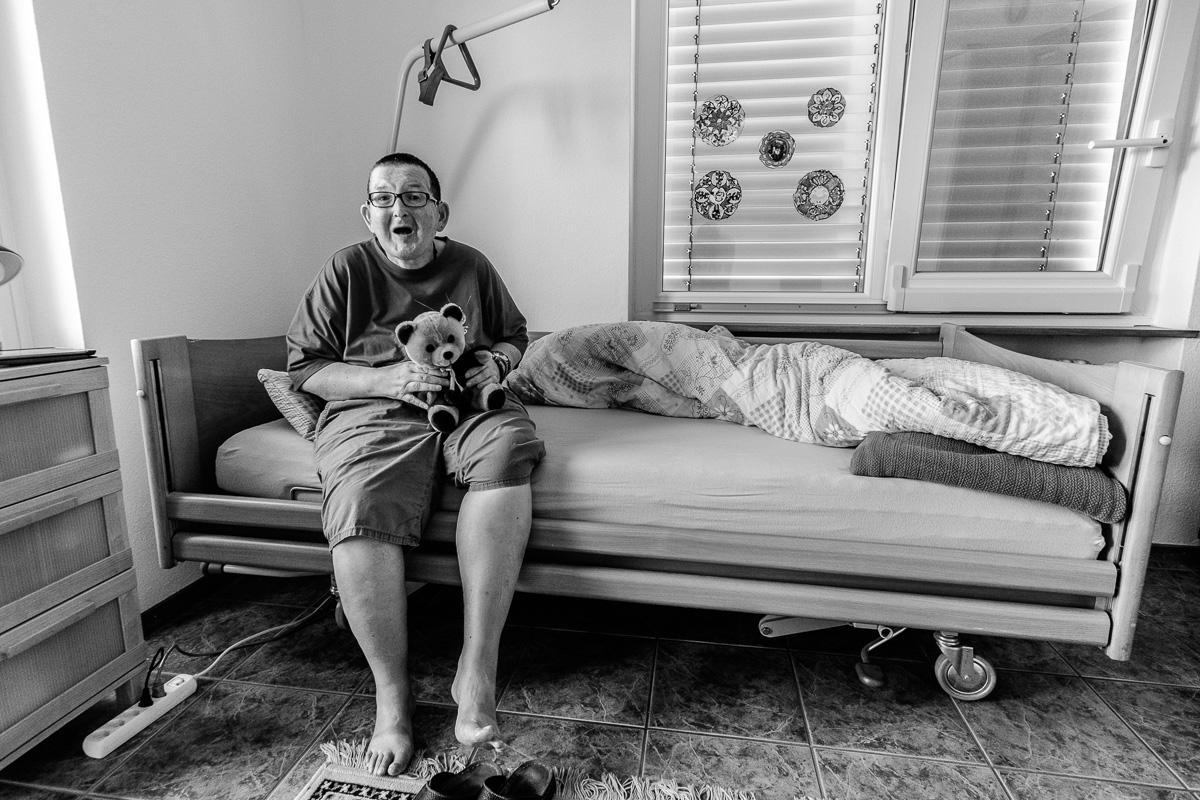 S: They are like kids and might have unpragmatic dreams. How do you deal with this? Let's say somebody comes to you and sais "I want to build a rocket!"
MAS: Ya, then I would say "tell me how you want to build a rocket from paper, cardboard or legos." Then I would say "okay let's see how much pocket money do you have, can you afford it?" So one goes step after step with them and make them understand. Because we travel so much, one of my patients came to meet me the other day after seeing my sister from California here…"Aah, I was never in California, can we go to California next time?" I said "Yes, I can arrange it for you, but I can't come with you because I don't travel to the US. He asked me "Why?" I said "I don't want to because of my legal situation because I don't trust the justice department." But they don't understand the meaning of justice department as such, then I say "Because of my past." I try to put it in the terms that they will understand. "But I will arrange it for you", but they said "No." Because they want to go with me.
S: What do you think about the US justice system? And can you go to the US?
MAS: Yes, I can go, but I don't want to because I don't trust the justice system. We know many incidences, one read on a daily basis how they frame people, they politically are afraid of people who are outspoken and its no no for me! And my family keeps visiting me whenever they get a chance and opportunity. And now things are much easier for communication, via Skype you we can stay connected.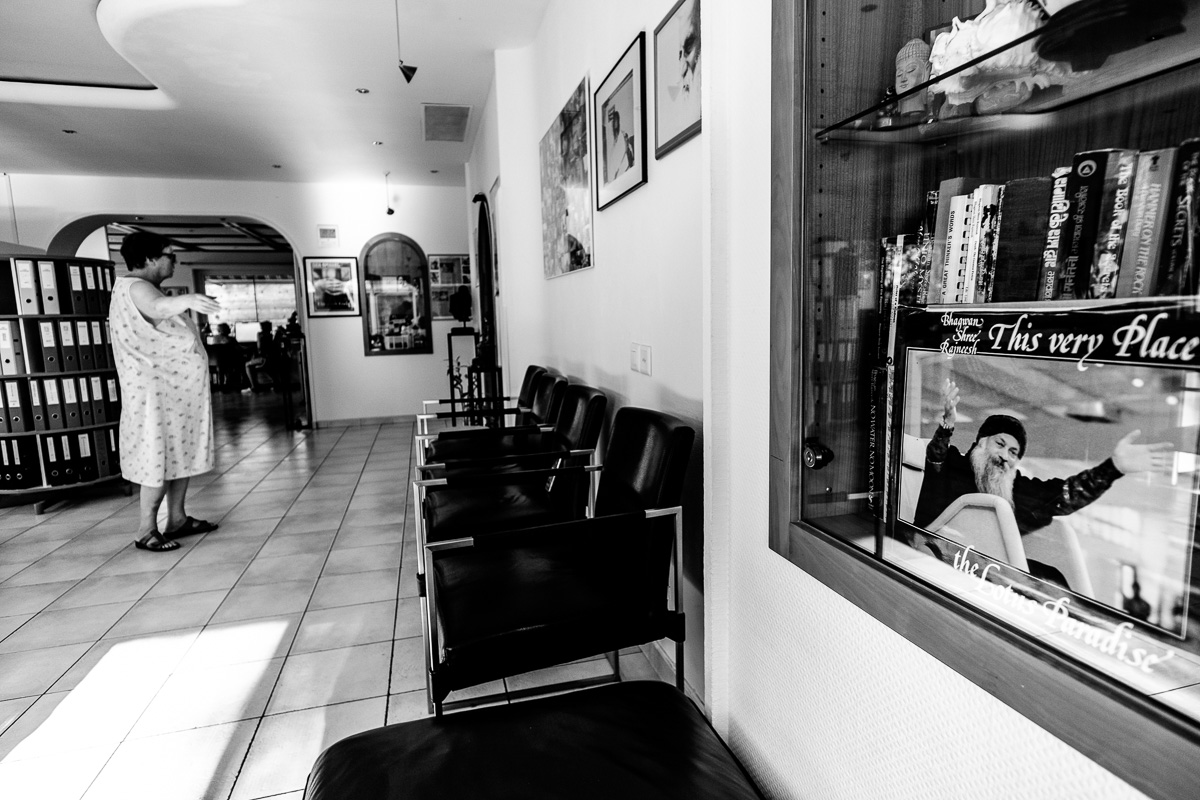 S: Do you also have any strict methods to control them sometimes?
MAS: No! You do it with love, but sometimes you have to be resolute. Then, for example, if somebody is aggressive towards someone else, then you have to interfere and say "No, leave him alone!" and we send them for a walk outside. We have a young man here who was doing crack and cheap drugs. We didn't know about it earlier and we gave him the place here. Next morning after the shower, a nurse called me and said "You have to come and look at his back!" and his full back was with pimples with white pus in them. We took a photo of it, I thought he got infected because of hygiene issues. For the first few days he would go outside for a walk all alone without eating. So then he came back in the evening, normally he should be back at dinner time but he came later. I asked "What did you eat the whole day? You must be hungry"- "No I'm not hungry." I said "Where did you eat?" - "I had some candy." - "Show me what candy you eat." and he pulls a bag full of jelly beans which is pure sugar. So I looked at the bag and asked "Did you eat the whole bag?" and he said "Ya, I do it every time." So I said "That makes sense for your pimples because so much sugar can give you pimples" and I said "It's not good. Next time you take a sandwich." So we watched him for 3 weeks and found out that he was addicted to sugar and in less than six weeks we figured out that he is pumping crack (a street drug), sniffing with jelly beans. He would buy these highly toxic magazine with graphic papers and they have glossy silver, gold or metal printing on it, embossed, and then he would burn it and sniff it. Surprisingly, his psychiatrist was dealing with him over ten years and never found out that he's into drugs. Our first step was to take him away from jelly beans, we stopped his pocket money and then he would take a CD-Rom and burn it and sniff it to get high. The next step was to stop him buying magazines and CDs. We cleaned him up in the first six month, he traveled with me also and was under my direct surveillance. He was 30. yrs old and he was doing it since he was 15. It was an extreme case we dealt with.
S: What next?
MAS: I am working on my second book, it's an autobiography. It's more about my life after jail. My brother wants to edit it and wants to see every page I write.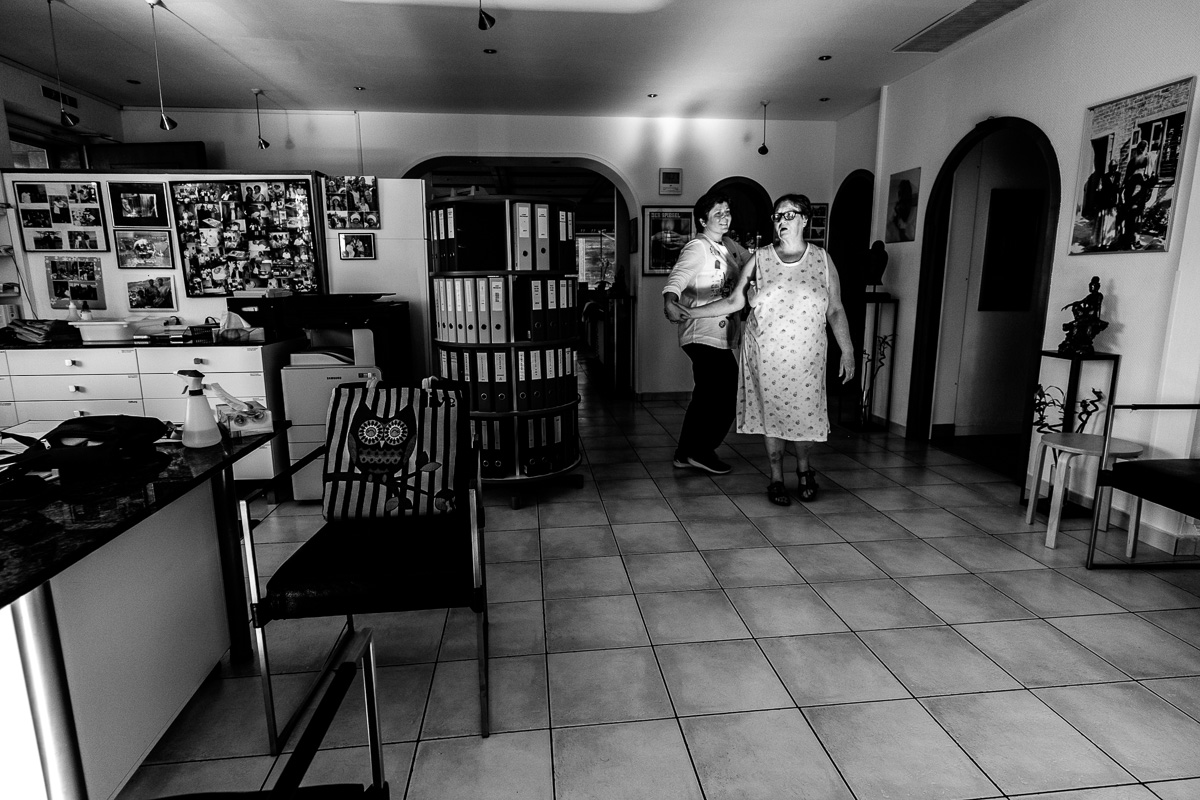 S: What's your message to the 21-year-old woman out there?
MAS: Chase your big dreams over chasing a man for financial security and comfortable living. It's an illusion and you would only end up looking after his kidsfor the rest of your life.
We also did a Q&A with my social media audience and the video for the same can be found in this link.